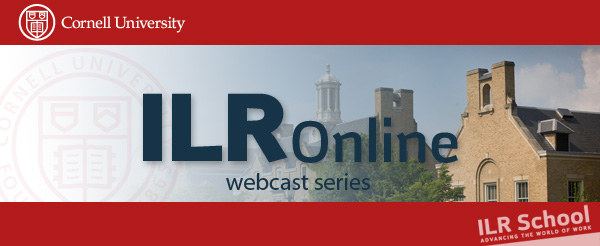 Register Now!
"Beyond Yellow Ribbons:
Putting Veterans with Disabilities to Work"
Webcast Date:  Friday, October 26, 2012
Time:  12:00 – 12:30 p.m. (EST)
This webcast is free of charge.
This webcast will be closed captioned.
ILR Online recognizes National Disability Employment Awareness Month in October with a timely program on veterans, disability and employment.
According to the United States Census Bureau, there about 21.8 million veterans in the United States. Younger male veterans (age 18 – 24) who served during recent engagements have an unemployment rate that is nearly double that of their non-veteran peers.
Disability is a key employment issue for returning veterans.  Recent research at Cornell University has shown that employers generally have positive attitudes toward employing veterans, but that they struggle with issues and misperceptions around employing veterans with disabilities.
Hannah Rudstam, Senior Extension Associate, Employment and Disability Institute, will share findings from her research on this subject, discuss challenges faced by returning veterans in their efforts to transition to work, and offer practical advice to employers about integrating veterans into the workplace and accommodating their needs.
You'll get answers to these questions during the webcast:
Veterans with and without disabilities can contribute a great deal to the workplace. What do employers need to know about returning veterans, including veterans with the "signature disabilities" such as post-traumatic stress disorder?
What are the main employment issues and challenges for employers and for returning veterans with disabilities?
What steps can employers take to ensure that they provide welcoming and effective workplaces for returning veterans with disabilities?
Rudstam and her work have gained national attention from major media including NPR and the Los Angeles Times. Susanne Bruyere, Director, Employment and Disability Institute, will serve as program host.
Technology
ILR Online webcasts can now be viewed using computers or mobile devices. The Silverlight plug-in is required. Click this link to test your computer (if needed, you may be instructed to download Silverlight). ILR webcast test. If you can watch this test webcast you should have no problem viewing the live event.
Be aware that if you do not have Silverlight on your computer you will need to download it. If you use a computer that has security limits that require an administrator to download Silverlight for you, be sure to test as early as possible so you will have Silverlight installed before the webcast date.
Previous webcasts produced by the Cornell ILR School can be viewed here.
For more information about the Employment and Disability Institute, click here.
Contact
Lori Biechele
Cornell University ILR School
607-254-8941
lb274@cornell.edu